Restaurants at Midtown Crossing
Whether you're looking for a place to spend an evening with friends and family, a quick lunch, happy hour after work, or want to expand your culinary palette, the restaurants at Midtown Crossing offer something for everyone. Nestled in the heart of Omaha, Midtown Crossing is a convenient location for grabbing a bite to eat. Click here to view our restaurant and happy hour specials. The neighborhood also hosts dozens of events each year and has stellar entertainment for those looking for more than just food and drinks. Click here for directory map.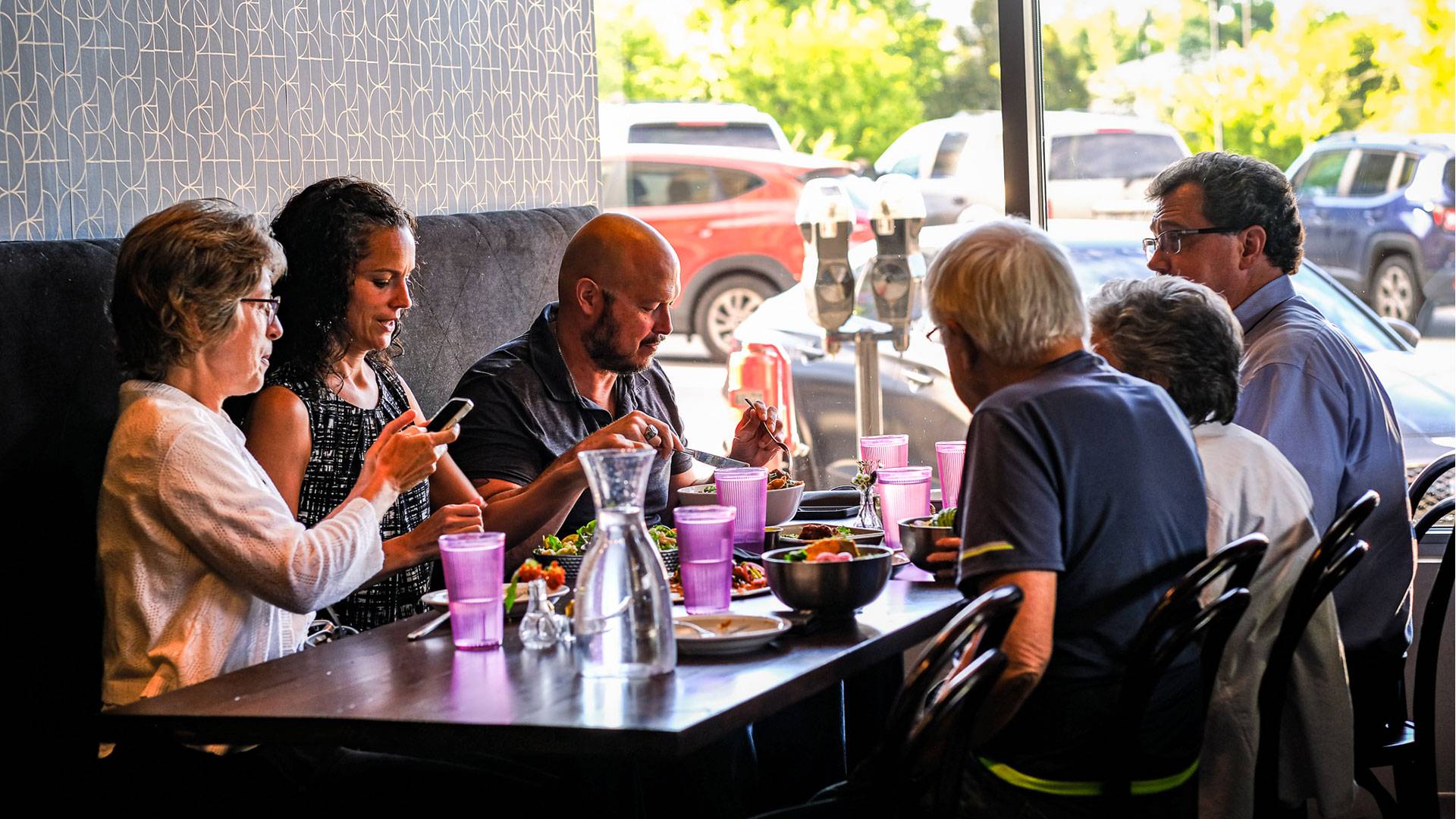 CASUAL EATS
Step into the heart of Omaha's Midtown Crossing, a place where you can discover a delightful array of traditional and casual eats that is sure to please every palate. 
For a satisfying lunch that the whole family will love, Pickleman's Gourmet Cafe is the standout choice. Their toasted sandwiches, thin crust pizzas, and fresh salads are sure to satisfy your hunger and leave you feeling content. 
After lunch or dinner, indulge in a classic sweet treat at Cold Stone Creamery and Rocky Mountain Chocolate Factory. Cold Stone Creamery's "super-premium" ice cream is made fresh daily, offering a delightful experience as you create your own custom masterpiece with a variety of toppings. And at Rocky Mountain Chocolate Factory, you'll find premium chocolates and caramel apples that add a touch of nostalgia to your dining adventure. It's the ideal way to end your meal on a sweet note. 
Step into the culinary haven known as Chef Around the Block Pop-up Shop, where local chefs, caterers, and culinary experts gather to showcase their skills. With a rotating menu, you can expect new flavors and surprises every week from talented area chefs.  
For a taste of swanky vegan comfort foods with a modern twist, Modern Love is your go-to destination. Using the freshest locally sourced ingredients, their dishes are crafted with creativity, offering a unique dining experience for vegans and non-vegans alike. The midtown favorite is owned by popular cookbook author, Chef Isa Chandra. 
And if you're a chicken wing lover, you can't miss out on Ray's Wings, Pizza and Drinks – the ultimate destination for wing enthusiasts. With an extensive selection of mouthwatering homemade wing sauces, diners enjoy a burst of flavor in every bite. Whether you're catching a game, enjoying the patio, or sipping a cold beer, Ray's Wings, Pizza and Drinks is the perfect spot to indulge in good pub food. 
Midtown Crossing's charm extends beyond its delectable eateries, as it boasts a walkable, urban neighborhood just minutes away from downtown, UNMC, and Creighton University. So take a step back into tradition and relish in the classic delights that Midtown Crossing has to offer for a casual dining experience that's sure to please everyone.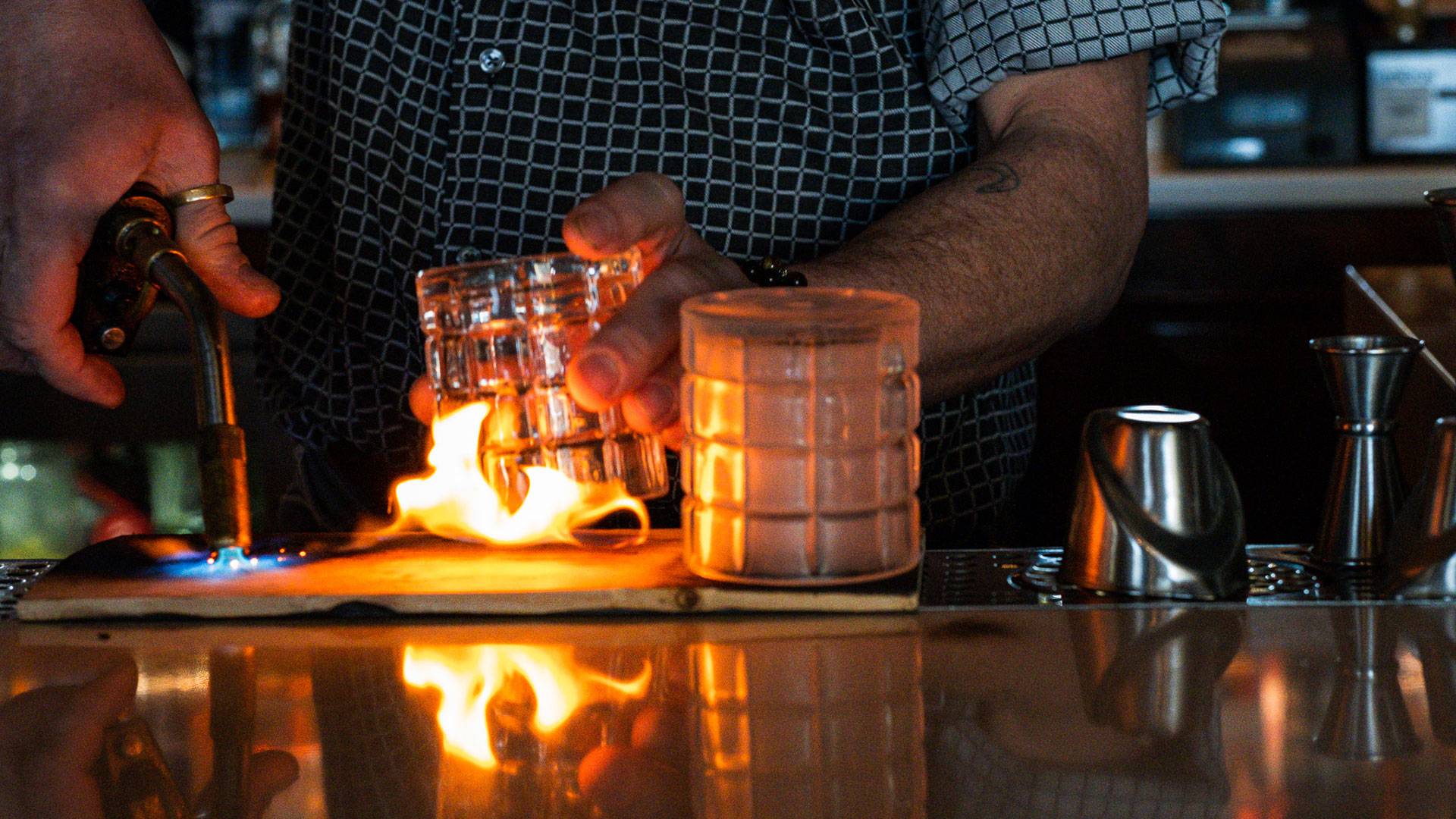 YOUR BEST HAPPY HOUR IN OMAHA
When it comes to freshly made cocktails, libations and downright perfect happy hour spots in Omaha, Midtown Crossing stands out as the best, and PROOF Whiskey Bar & Craft Cocktails is a testament to that. Located along scenic Turner Park, PROOF offers a remarkable selection of hundreds of whiskies from around the world, along with an impressive array of spirits, craft beers, and decadent wines. Their handcrafted classic and original cocktails, made with fresh ingredients and served with superb service, are a delightful treat during happy hour. 
Another fantastic happy hour destination at Midtown Crossing is Smokin' Oak Wood Fired Pizza and Tap Room. With self-serve beverage dispensing technology, this spot offers over 40 beers on tap, along with a variety of wines, ciders, seltzers, and mixed drinks. It's a perfect place to unwind and enjoy a diverse range of beverages with friends. And don't forget the pizza! 
For those craving a freshly made margarita and more, Pa Mas Taqueria & Grill is a must-visit at Midtown Crossing. Their flavorful margaritas, margarita flights and other offerings provide a delightful way to relax and celebrate during happy hours.  
Whether you're in the mood for whiskies, craft beers, wood-fired pizza, or mouthwatering margaritas, Midtown Crossing has you covered with its excellent array of happy hour spots.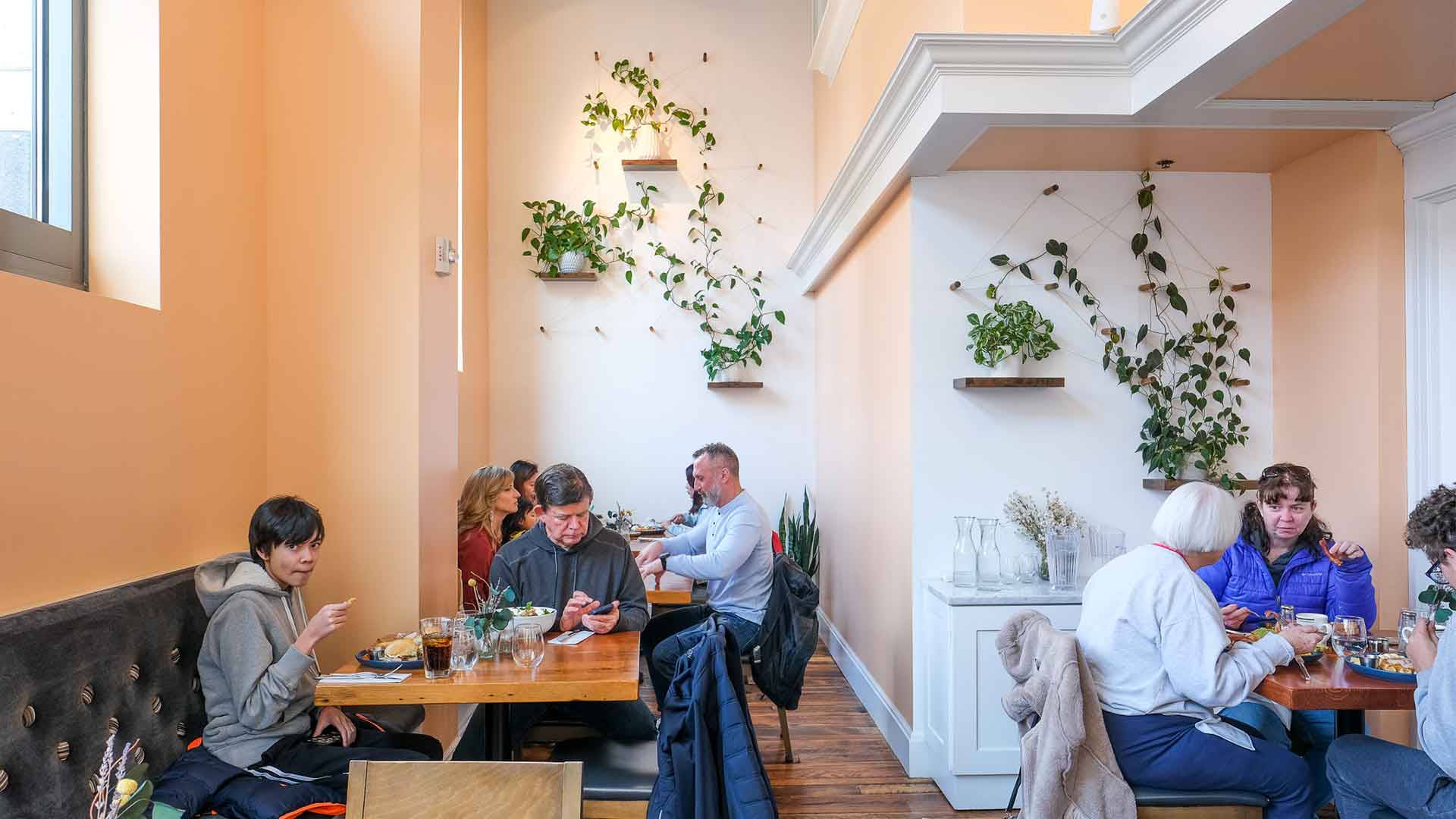 BEST CAFE AND COFFEE SHOP IN OMAHA
Located on Farnam Street, Stories Coffee Company is one of Omaha's most popular, locally owned coffee shops. Known for their high-quality coffee, Stories also offers a full menu of sandwiches, soups and appetizers perfect for pairing with the full selection of beverages – from coffee, tea and smoothies, to beer, wine and cocktails.   
Discover Sofra Kitchen, the newest restaurant sensation in Omaha, where delectable dishes are curated by a talented European chef with over a decade of experience in Italy, Greece, and the Mediterranean coast. Enjoy daily brunch as restaurant chefs craft American favorites with an enticing European twist. With seasonal ingredients, every visit promises something new and unique to tantalize your taste buds. 
ASIAN RESTAURANTS OMAHA
In the heart of Omaha's urban core, three Asian fare eateries stand out as exceptional dining destinations. Sea Thai restaurant is a culinary gem offering fresh, authentic, and carefully prepared Thai favorites. With unique recipes developed through the chef and owner's annual travels to Thailand, Sea Thai delights diners with dishes like Chicken Mango and Basil Chicken, providing an exquisite taste journey. 
At Yummy 365, your taste buds will love the fresh flavors. With talented, experienced chefs crafting dishes using fresh ingredients and exotic sauces, Yummy 365 elevates dining to a delightful adventure of flavors and aromas that captivate the senses.  
Be sure and check out Thirst Tea Cafe, a local favorite for their signature boba teas. From traditional blends to flavor-infused favorites like passion fruit jasmine tea and matcha milky tea, they've got a brew for everyone. Don't forget to top off your drink with signature "boba" tapioca pearls or other delectable toppings of your choice. Embrace the tea lover in you and stay Thirst-tea!