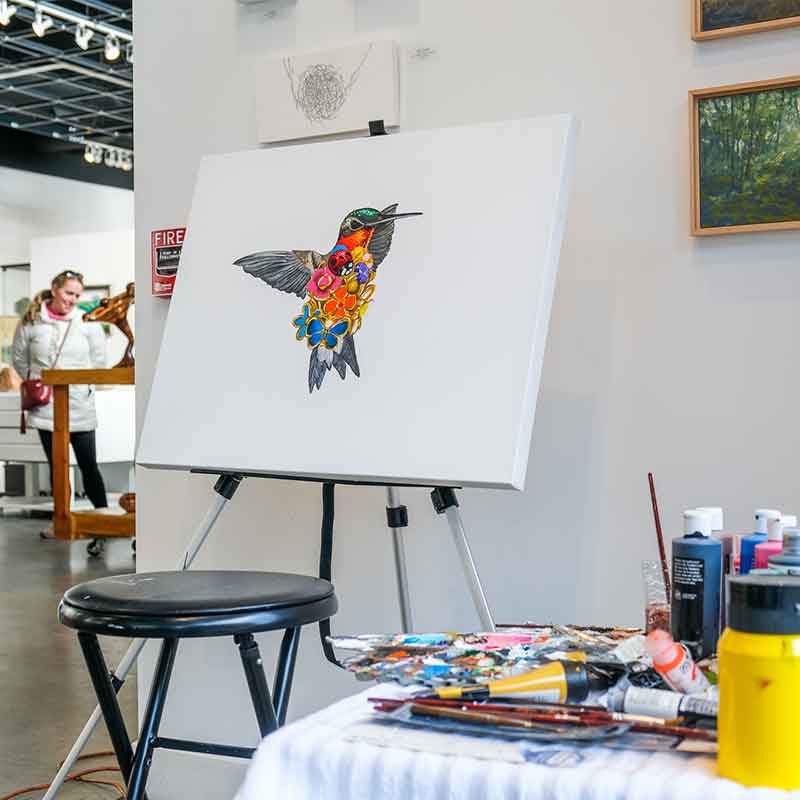 Committed to a more vibrant community
Midtown Crossing is home to a popular local art gallery, public art projects, and an abundance of lively festivals. Art is a vital aspect of any community, it allows us to celebrate what makes our city unique, brings people together, and honors our community. At Midtown Crossing we are committed to beautifying the neighborhood, turning up the volume with color and creativity and providing opportunities galore for local artists. Visit Midtown Crossing today and experience a vibrant, artistic community in the city of Omaha.
Numerous public art projects and art installations call Midtown Crossing home.
Local artist Watie White has three permanent murals in the neighborhood, including "Monday Night Movies" on the east side of Stories Coffee Company, "Turner Park" on the southeast corner of 33rd and Farnam, and "Eastbound Zeppelins" above Modern Love. 
The Sunny and Chair Community Art Project involves talented creatives who turn a collection of Adirondack chairs into works of art, highlighting one of Omaha's iconic destinations and/or distinctive attributes. The stylized chairs are positioned around Midtown Crossing and Turner Park. The 2022 Presenting Sponsor for the Sunny and Chair Art Project is Omaha Steaks.
Horses of Honor Omaha, presented to the Omaha community in 2016, honors the lives of our fallen heroes of the Omaha Police Department. The full public art exhibit was on display in Turner Park from 2016 to 2017 and raised more than $130,000 for the Omaha Police Foundation. Two pieces of the exhibit now permanently reside in Turner Park: a horse honoring Sergeant Jason "Tye" Pratt, painted by Ying Zhu in collaboration with Jordyn Pratt and a sculpture honoring K9 Kobus, created by Michael Torres.
A beautifully-designed heart from the "Nebraska by Heart" public art campaign now calls Midtown Crossing home. Artist Shelley Creeger Stoltenberg's "Jewel of the Heartland" is on display on the west end of Turner Park, between Thirst Tea and Empire Room. 
Turner Park is the long-time home of Omaha's largest remaining World War I memorial. Originally dedicated in 1937, the memorial was restored in 2011 and currently resides in the southeast corner of Turner Park at the corner of Turner Boulevard and Farnam Street.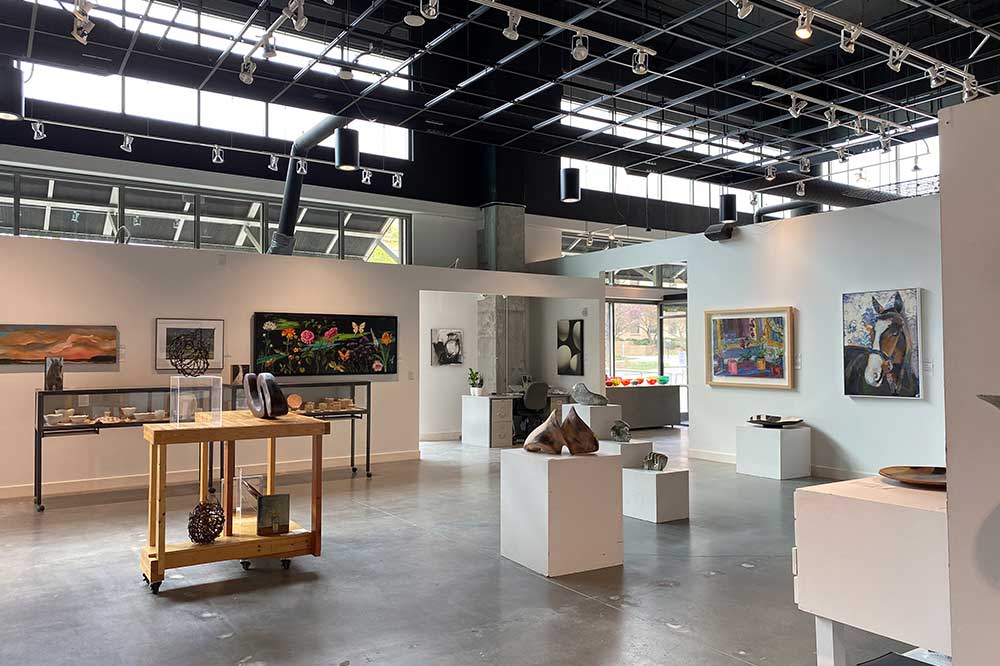 Anderson O'Brien Fine Art is a premier art gallery located at Midtown Crossing. The gallery offers an extensive collection of both modern and contemporary art including photography, jewelry and sculptures, and specializes in art for both corporate and residential needs. For more information regarding upcoming exhibitions and events visit their website.
Turner Park hosts numerous music, art, and cultural festivals every year. All events are free and open to the public, and dog- and family-friendly. Signature festivals include the Farnam Street Chalk Art Festival, Omaha's Night Market and the popular LOVAM Jazz Festival.
Built in 2013 thanks to generous community donors, the Pavilion at Turner Park provides an iconic, permanent stage and infrastructure for Turner Park festivals.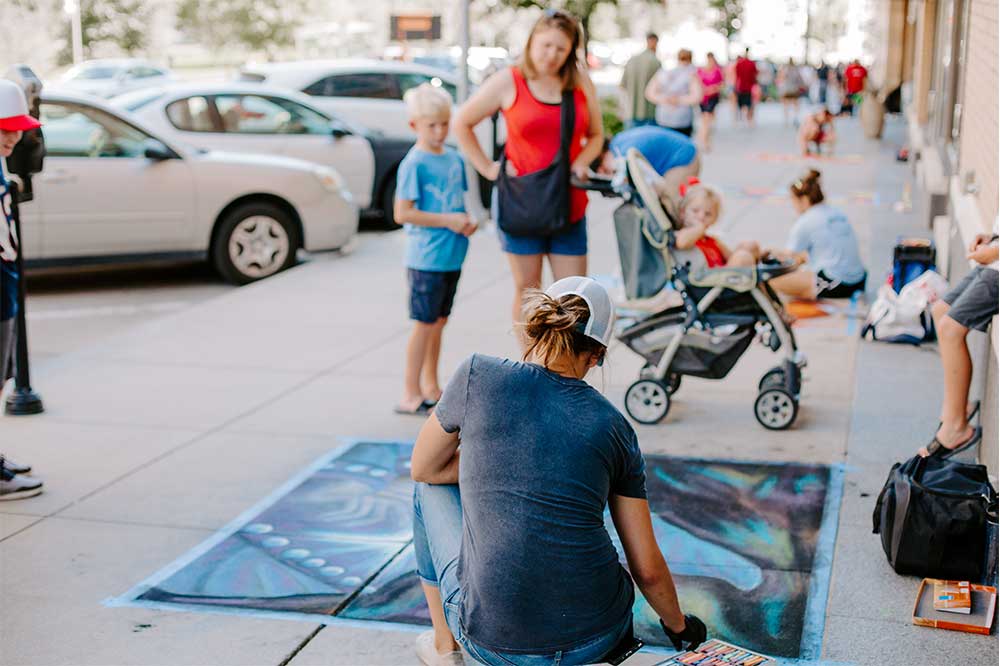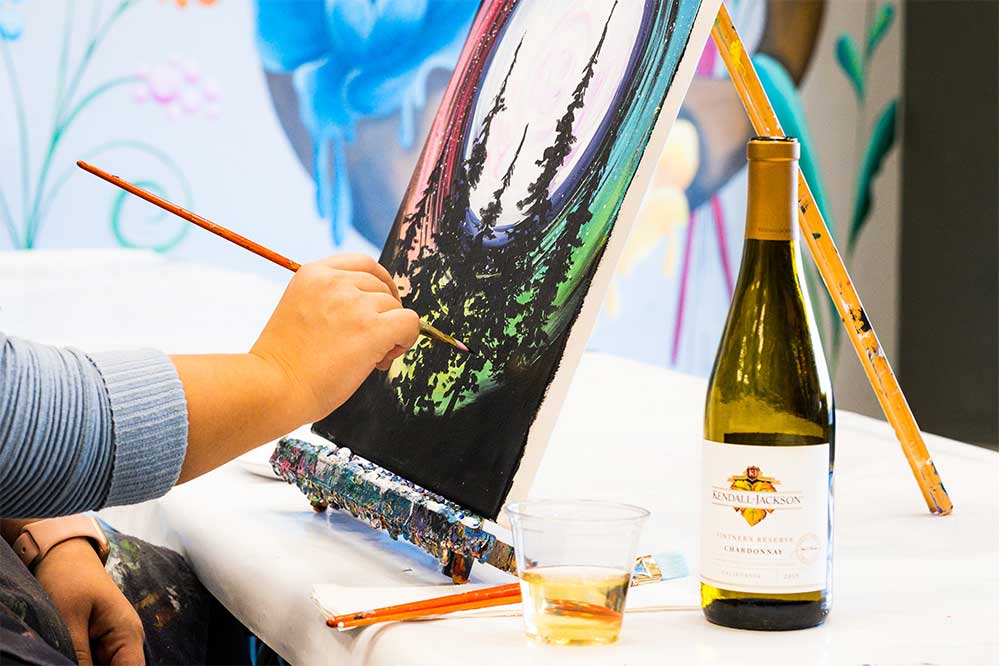 If you are looking for an interactive art experience, Midtown Crossing studios Corky Boards and Corky Canvas offer something for any creative type and make for a fun day or night out on the town. Corky Boards specializes in helping you create wall worthy signs and home decor, while Corky Canvas is geared towards those who prefer paint and canvas.
Art is a key component of Midtown Crossing's vibrant community. Come visit us today to explore our studios/galleries, public works of art, or attend one of our festivals.  Come and explore.