At the intersection of everything Omaha, in the heart of Midtown Crossing, are passionate, dedicated entrepreneurs like Preeda Joynoosaeng.
Owner and operator of one of midtown Omaha's eclectic and highly popular Sea Thai Restaurant eatery, Preeda Joynoosaeng (pronounced joy-new-sang) is bringing his expertise and passion for Thai fare to Omaha's urban core. And your taste buds are in for a delicious surprise.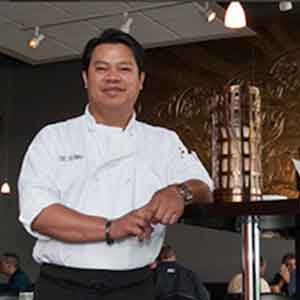 From Bangkok to Omaha
Preeda's story is nothing short of fascinating.  Born in Bangkok, Thailand, Preeda came to the United States when he was just 11 years old.  His father had come to the U.S. first and worked in the Omaha area in the early 1980's.  The family was able to join him in 1985.  Money was tight and yet the family worked hard. Together.  Preeda's mother purchased a small breakfast spot in called "H&I" Café, located in South Omaha on 24th Street, between H & I Street.  Preeda worked in the café running the breakfast operation and something began to happen.
Preeda's love for creating authentic dishes began to flourish. His passion continued to evolve, and the original 12 dishes offered at the café grew to 20, then 26 and then more. The café moved to 19th & Farnam and was eventually sold, and yet Preeda maintained a fervent enthusiasm for bringing distinctive Thai fare to the Omaha region. In 2007, Preeda opened Mai Thai in the west Omaha Harvey Oakes neighborhood, then a few years later opened a second location in Aksarben Village.
Omaha's Best Thai Food – found at Midtown Crossing
And yet, the story unfolds. Preeda saw an opportunity to join Omaha's vibrant, eclectic urban core, along with other Midtown Crossing eateries, and knew this was his chance to further develop and perfect his most popular, unique and authentic recipes. His Chicken Mango is, hands down, his most popular dish. Stir-fried chicken with bell peppers, onions, carrots, celery, and, you guessed it, fresh mango, and topped with cashews is simply a crowd pleaser. But wait until you taste his Chicken in the Mud. Stir-fried chicken with egg, onions, celery, ginger, bell peppers and carrots all in a delectable, yummy cream sauce. You're sure to come back for more. Other fan favorites include his Basil Chicken dish with fresh basil, Tom Yum soup, Coconut Soup, egg rolls, spring rolls and the best Pad Thai in the land.
Inspiration from Thailand
Seriously. This is good food. Fresh. Authentic. Carefully prepared. Preeda knows what he's doing and continually invests his time into perfecting his culinary expertise. In fact, to this day, he still travels back to Thailand each year to further learn and develop unique recipes he brings back home, to Omaha.
Preeda and his wife, Sureerat, have three children, one studying at UNO and two girls attending Westside High School.
Stop by today and meet Preeda or call in your take-out order!